I had no idea that the London Underground is the oldest underground mass transit system in the world and that it has been in operation (at least part of it) for 150 years! For us Americans, that means it began operation during the Civil War era. Wow! That's amazing.
For those who didn't see Google's title page on Wednesday, January 9th, here it is. I thought it was brilliant.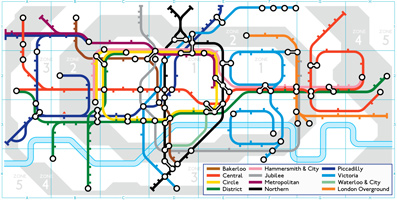 So fun! We love the Tube. When we go into the heart of London, we take the train from Lingfield to London Victoria. It's about a 45 minute train trip. Then, we walk through Victoria Station, take the stairs down to the Tube station, and hop on the Circle or District line. From there we can transfer to other lines and travel anywhere we want to go in London. It is such a great system, but it is vast and complicated.
We carry a Tube map (slightly different...) with us everywhere we go.
Of course, everybody around here loves the Tube, so it can be a crazy experience. We've had some, shall we say, memorable experiences, particularly during rush hour - which lasts hours - and national holidays like the Queen's Jubilee. Often we are able to find a seat. (Sometimes someone will offer us their seat, but we have mixed feelings about that.... It's such a kind gesture, but do we look
that
old???) Usually, we end up standing in an aisle because there is such a crowd, and sometimes we are so smooshed together that we're grateful deodorant was invented. That makes for some interesting experiences. (1) Don was pickpocketed a few months back. Luckily, they picked the pocket with his keys, not his wallet, (2) we've carried on conversations nose to nose (literally) with people we've never seen before and will never see again, (3) we've ended up in different ends of a car - unable to communicate about where we're getting off, and (4) a couple of weeks ago we had to extricate our grandson from a train. It was just before Christmas. The rest of us had managed to fight our way off at the right stop, but 6'2" Adam could not make his way through. The conductor had announced twice that the train was leaving and Adam was still lodged several people back from the door. Two of us had to reach in, grab his arm and pull with all our might!
On the way home
All in all, we still love the Tube. In the past year, we've used it many times. It gets us around quickly and efficiently. There are so many trains we never have to wait more than a couple of minutes. And, we can travel in as big a group as necessary. We've travelled with family, we've travelled to plays with groups of senior missionaries, and we've travelled to Hyde Park Visitors' Centre with all our VC sister missionaries. There's plenty of room for everyone.
Happy 150th Anniversary to the London Underground! ~Pat~